Overview
American Rifle Company's M10 QD-L is designed for use with rifles having full length rails.

Mount height is the distance from the top of the rail to optical center and is defined at the center of the aft ring.

Each clamp is 21mm (0.83") in width.

Inside distance between clamps is 69mm (2.717").  Outside distance from clamp to clamp is 111mm (4.370").

Designed to fit Picatinny (MIL-STD-1913) rails.  


Proudly engineered and manufactured in the USA.
Details
The M10 QD-L features two innovative spring-loaded, pivoting rail clamps. Due to the high placement of the pivot and the design's inherently low friction, the pivoting clamps impart the majority of the clamping force upon the rail, not the ring. The resulting efficiency enables tighter clamping than that offered by conventional levers. Moreover, the pivoting rail clamps won't get stuck like levers do and don't need to be adjusted for variations in rail size. They offer real QD functionality enabling the shooter to remove and reattach a scope in seconds. The thumb screws are made from 410 stainless steel and are captivated by an O-ring so you won't lose them. Their knurled and comparatively inconspicuous design offers a secure grip while making them less prone than levers to snagging equipment or brush.
The M10 QD-L features a crowned-rail interface which precisely and correctly engaged rails, even those which fail to meet Mil and STANAG specification. The result is excellent return-to-zero performance.
The M10 QD-L holds firmly without marring or indenting the scope.
The uniquely split rings of the M10 QD-L maintain reticle alignment during scope installation while their low profile leaves the shooter with a clear view of the turrets.
Extremely strong and light-weight the M10 QD-L is CNC machined from 7075 aluminum alloy and anodized with a mil-spec hard coat for excellent corrosion resistance and a matte-black finish.
Stainless steel hardware is used throughout.
Torque spec: 5.6-6.2 Nm (50-55 in-lbs) on scope clamp screws.  Knurled rail clamp screws may also be torqued to 5.6-6.2 Nm (50-55 in-lbs) if loosening with fingers is not needed.  
Available Sizes and Angle of Inclination
 Green indicates available sizes with MOA listed.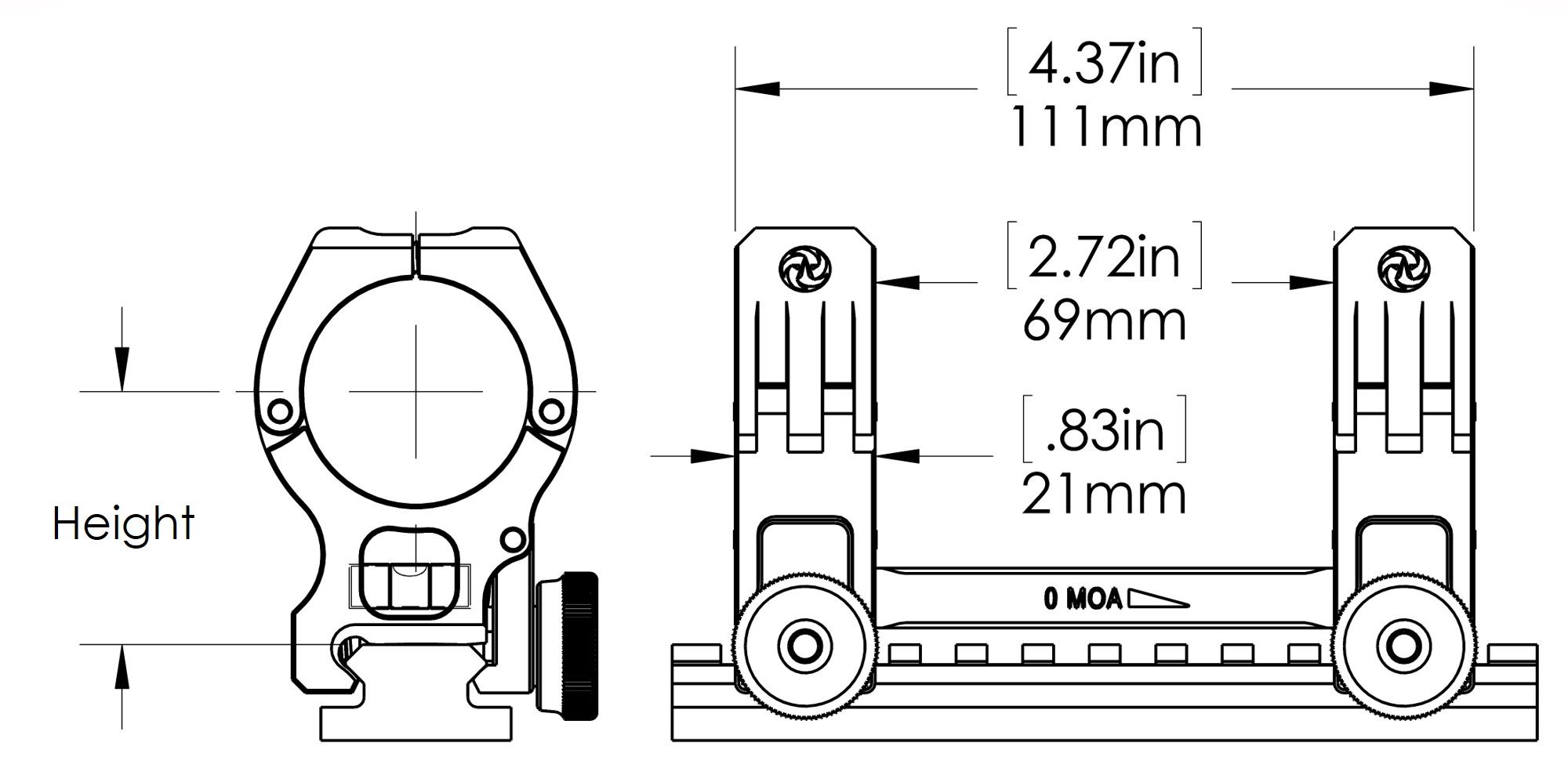 30mm Dia
34mm Dia
35mm Dia
36mm Dia
40mm Dia

40mm Height


0 MOA

20 MOA

30 MOA

0 MOA

20 MOA

30 MOA


  0 MOA
25 MOA




20 MOA

25 MOA

45 MOA


35mm Height

0 MOA

20 MOA

30 MOA

0 MOA

20 MOA

30 MOA






20 MOA





Weight
Green indicates available sizes with weight (ounces) and mass (grams) listed.  Numbers are for a complete QD-L weighed on a scale with 0.1 oz resolution. 
Many sizes are similar in weight because the height is defined as the optical center to top of the rail.  Therefore, as the diameter increases the amount of material in the mount between the bottom of the scope tube and the rail decreases.  



30mm Dia
34mm Dia
35mm Dia
36mm Dia
40mm Dia

40mm Height


8.3 oz
235 g

8.5 oz
241 g

8.5 oz
241 g


8.5 oz

241 g

8.7 oz
247 g



35mm Height

7.9 oz
224 g

7.9 oz
224 g





 7.9 oz
224 g